Media Kit
amNewYork and amNY.com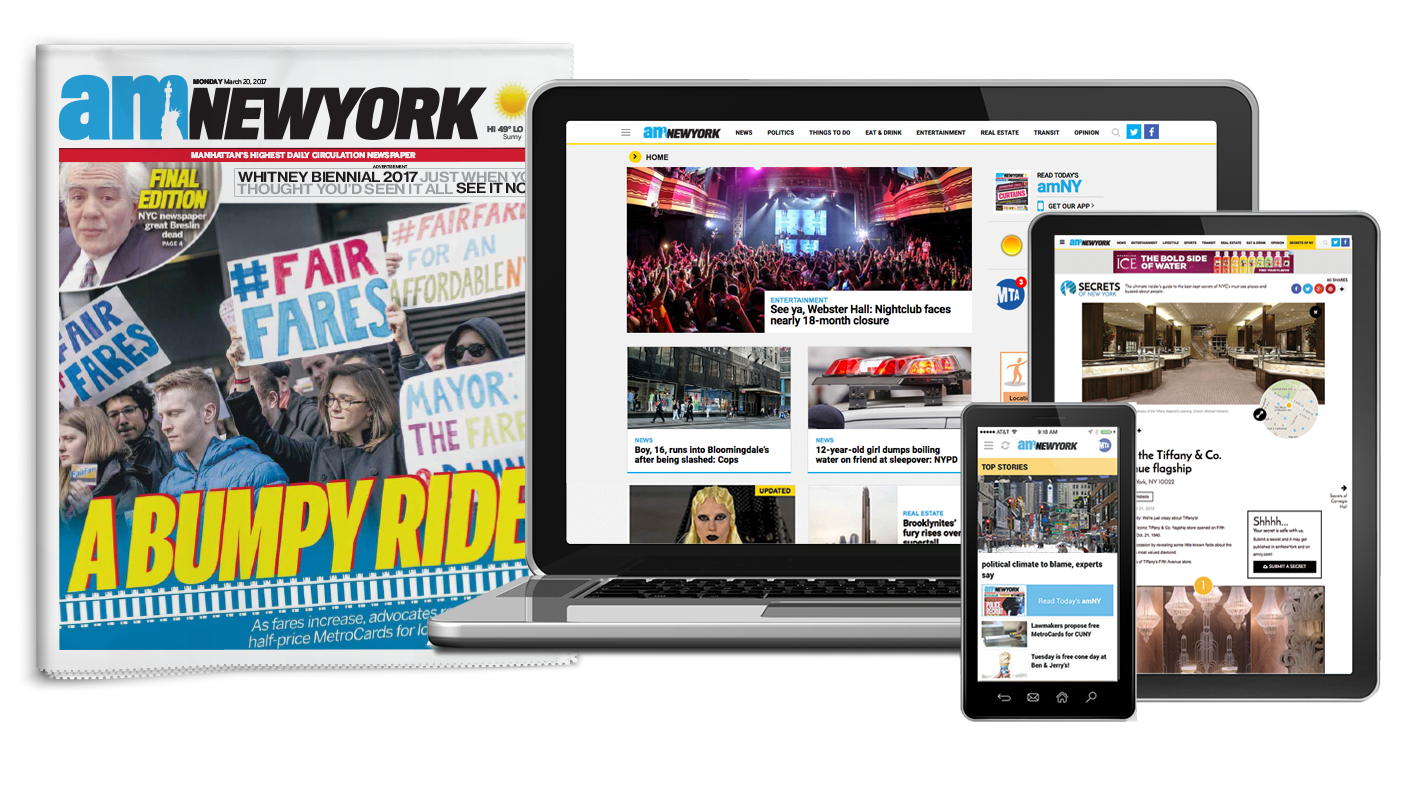 All the News You Need in a New York Minute
amNewYork is a smart, sharply-designed print and digital publication that provides New Yorkers with content on New York City and the surrounding boroughs. amNewYork is available at high-traffic transit and tourist locations and delivered free to commuters via street teams and distribution boxes throughout the City. With a combined print and digital audience of nearly 1.3 million adults, amNewYork is as much a daily habit for New Yorkers as their morning coffee.
Sources: CAC & AAM Audit Reports, 12 months ending 9/30/16; Scarborough NY, 2016 (Release 2)
Our Audience
amNewYork Print/Digital Weekly Audience
1.3 million weekly readers
1.1 million monthly uniques
$46,258 Median HHI
32% have children in the household
65% are college educated
24% of amNewYork's audience owns their own home
Average length of residence is 10 years
Median value of owned homes is $548,728
Combined total home value is over $205 billion
Leverage amNewYork's dominance in NYC to increase brand awareness.
Sources: Scarborough NY, 2016 (Release 2). Base: NYC Boroughs; ComScore March 2017.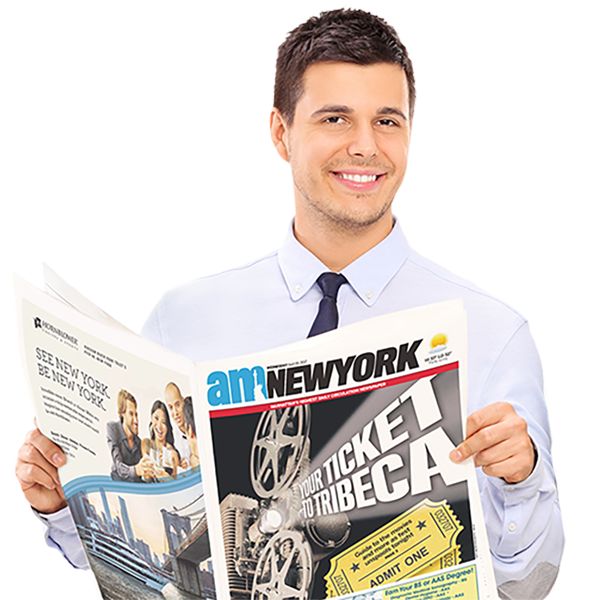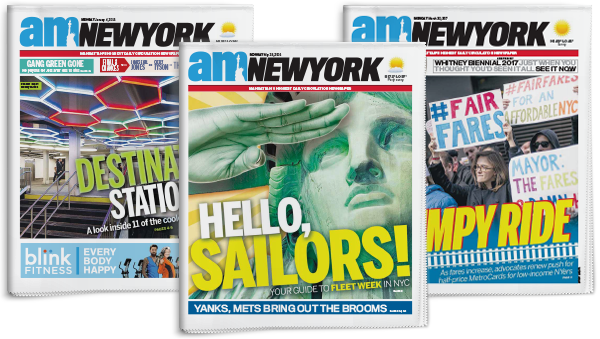 amNewYork - Print
1.3 million weekly readers
Highest New York City distribution among all New York City papers
Hand-delivered at high-traffic locations in and around Manhattan
Sources: Scarborough NY, 2016 (Release 2), Base: 5 Boroughs;
CAC & AAM Audit Reports, 12 months ending 9/30/16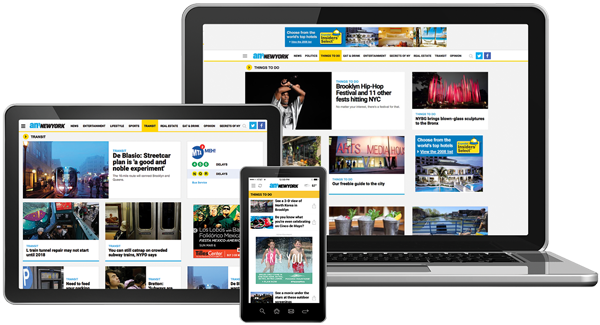 amNY.com - Digital
10.1 million monthly page views
1.1 million monthly unique visitors
71% of page views from mobile
Sources: Adobe Omniture March 2017; ComScore March 2017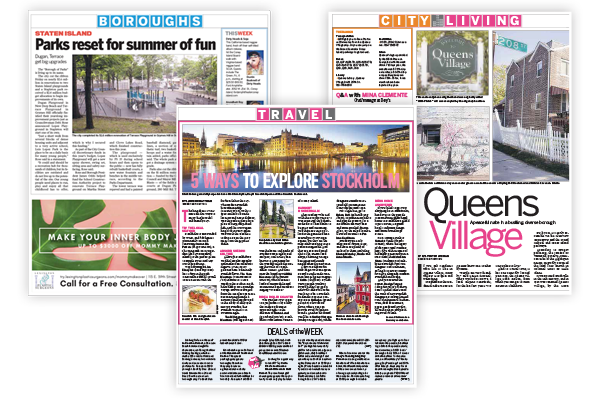 Editorial Features
amNewYork offers topical content of interest to New Yorkers. Covering local news & transit, real estate, business and entertainment, amNewYork's themed sections* help New Yorkers live their best lives.
Monday
Education
Brooklyn
Patrick McMullen
Pets
Tuesday
Business
Style
Travel
Secrets of New York (bi-monthly)
City Living (bi-monthly)
Wednesday
Business
Dining Out
Health
Thursday
Sunrise to Sunset
Real Estate
Thursday
Sunrise to Sunset
Real Estate
Friday
*Subject to change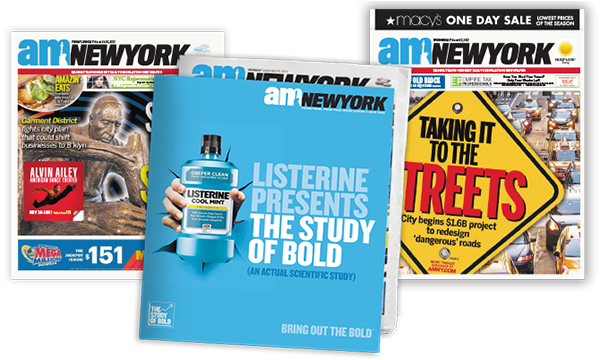 Unique Print Opportunities
Glossy, Bright White, or Newsprint Coverwraps
Sticky Notes
Pop-ups
Integrated Advertising Units
Sweepstakes & Contest Promotions
Special Section Sponsorship Opportunities
Exclusive Issue Ownership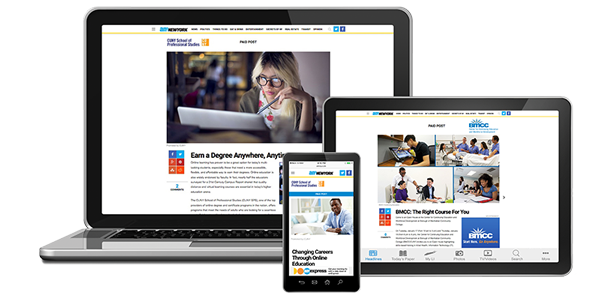 Brand360
Branded Content Studio
Brand360, amNewYork's custom content studio, helps clients tell the story of their product or service to qualified audiences in a way that is informative, entertaining, and immediately actionable.
More Details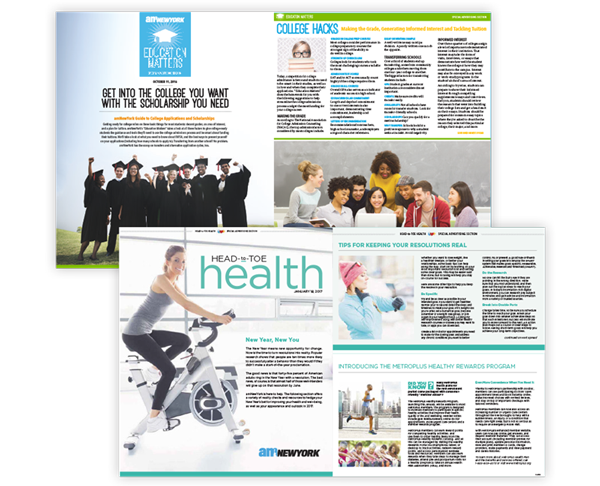 Special Sections
amNewYork offers a variety of topical and themed content via our special interest sections throughout the year. 
Education Matters: Designed for readers who are actively looking for information on area institutions, education trends, graduate programs, finance options, workforce training, and more! Available monthly.
Head-to-Toe Health: This section covers the gamut of health issues with emphasis on care and prevention. Available quarterly, topics highlight overall health, allergies, chronic disease, and more.
amNewYork's Street Elite
Combine the reach of outdoor advertising with involvement of performance art through amNewYork's Street Elite. Our Street Elite performance team is a group of trained actors who put the "expert" in experiential to create awareness and buzz for partnering brands. These professional actors, singers and entertainers bring advertiser messages to life in fun and attention-getting ways and actively engage with consumers. Positioned at some of the most heavily trafficked areas through Manhattan and the surrounding boroughs, Street Elite teams offer heightened exposure, experiential marketing and tremendous social sharing.