Always Right
Since at least 2006, Nassau's deadly force investigators have never ruled an officer's actions unjustified
A Nassau County police officer shot an unarmed man in the back. Another intentionally ran down an unarmed man with his squad car, costing him a leg. Still another shot an unarmed cabdriver after a night of drinking off duty.
In each case, department investigators reviewed the use of deadly force and reached the same conclusion within a day: The officer's actions were justified.
A Newsday investigation into the Nassau County Police Department's use of deadly force found cases where officers fired on suspects after incorrectly believing they were armed, shot people later convicted of no crime at all, and took action that a jury would later call excessive, resulting in one civil settlement of more than $15 million.
Yet each time, Nassau police's deadly force investigators validated the officer's actions.
The department confirmed Newsday's findings in acknowledging that since at least 2006 — as the number of officers shooting suspects rose sharply — Nassau's deadly force investigators have never found that their officers were wrong when they felt the need to seriously injure or kill someone. Though the department spokesman, Insp. Kenneth Lack, said many uses of police deadly force are subject to an additional, more thorough investigation by Nassau's homicide squad, he confirmed that those detectives also had not found a use of deadly force unjustified.
Nassau police denied Newsday's public-records requests for reports about its deadly force investigations by citing New York's 50-a law, which lets law enforcement agencies keep records used to judge individual officers' performance hidden from the public. While some of the incidents reviewed by Newsday show that Nassau's officers have used force in what appear to be appropriate circumstances, a number of cases raise questions about the use of deadly force and whether the department conducts thorough investigations into its officers behind this cloak of secrecy.
Police-involved shootings resulted in at least one recent high-profile tragedy.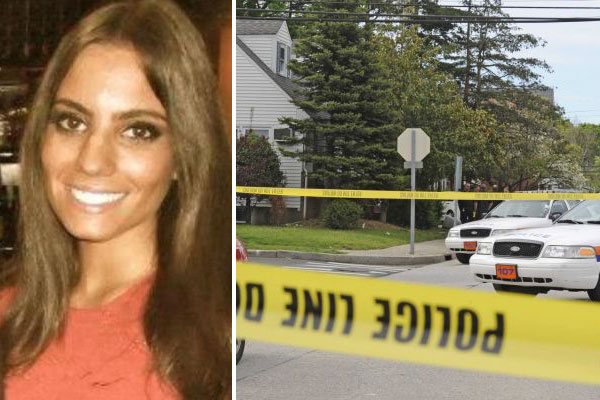 Hofstra University student Andrea Rebello, 21, was shot and killed by a Nassau County police officer as she was held hostage by an armed intruder in May. (Handout; AP, May 17, 2013)
Source: Shooting of Student Justified
A police source familiar with the investigation into the off-campus shooting of Hofstra student Andrea Rebello and armed intruder Dalton Smith told Newsday that a Nassau officer's use of force against both individuals had been ruled justified. The Nassau County Police Department has not... read more
Hofstra University student Andrea Rebello, 21, was being held hostage in her off-campus apartment on May 17 by Dalton Smith, an armed intruder who was demanding money. Police Officer Nikolas Budimlic arrived at the scene and would later report that Smith pointed a gun at him. Budimlic fired eight shots, killing both Smith and Rebello.
A police source familiar with the investigation into the case said the shooting of both individuals had been ruled justified. The Nassau County Police Department has not made the ruling by the shooting team public.
Rebello's family has filed a notice of claim indicating they will sue Nassau County for causing her death.
According to police, Rebello's shooting was one of eight police-involved shootings this year.
There have been 36 such shooting incidents by Nassau police officers in the past four years, an increase from the 10 incidents from 2006 through 2009, according to annual statistics the department provided to Newsday. As in the Rebello case, an incident can involve more than one person. Suffolk Police Department officers had 13 police-involved shootings since 2006, including five this year, records show.
In the only public examination into how the Nassau police department uses and investigates deadly force, Newsday reviewed news reports, civil rights lawsuits and criminal court files to uncover information on 30 incidents since 2001. The newspaper also obtained the department's own confidential deadly force investigative reports from three of the cases — two shootings and an incident where an officer ran over a suspect with his car.
Among the findings from the 30 incidents:
• The department has blamed the increase in police shootings on "the number of guns on the streets," but police recovered a firearm, BB gun or pellet gun in only 12 cases. At least twice, an officer shot an unarmed suspect who police said was reaching for his waistband.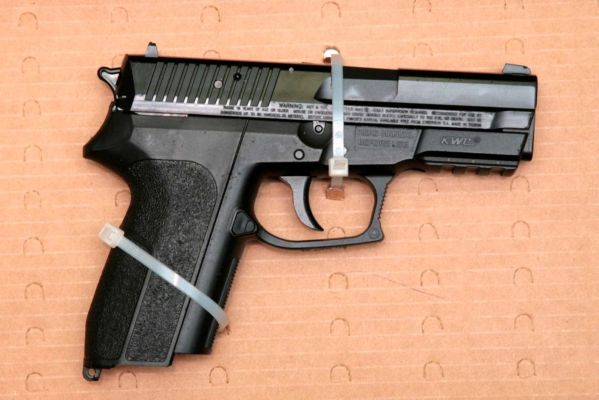 The deadly force targets had a firearm, pellet gun, or a BB gun (like the one shown here carried by a suspect who was fatally shot) in only 12 of 30 cases examined by Newsday. (NCPD, Oct. 8, 2009)
• Nassau police officers have shot at someone in a car at least 10 times since 2006. The investigative reports obtained in two of those cases did not note that, with strict exceptions, department protocols forbid firing at a moving vehicle.
• More than 20 suspects have faced serious felony charges, ranging from assault to attempted murder of a police officer, based on officer accounts of deadly force incidents. But records show in at least six cases, those felony charges were either dropped, reduced to misdemeanors or resulted in a sentence of time served or probation. Excluding those who were killed, at least three targets of deadly force were not convicted of a crime after the incident. Seven more targets of Nassau police shootings are awaiting trial.
• The three confidential deadly force reports included definitive statements that witnesses later did not corroborate with sworn testimony. In one case, deadly force investigators made several conclusions later contradicted by internal affairs investigators and a crime scene analyst. The deadly force investigators have also missed on basic facts, such as the number of bullets fired by the officer, and failed to interview witnesses who could have provided another version of events.
• At least three times, investigators justified the use of deadly force in instances that a civil jury later found excessive or resulted in a settlement, including one where the victim was paid $15 million and another jury verdict in June where damages have not yet been decided. Five more civil suits stemming from police-involved shootings are ongoing.
• Only 26 deadly force incidents can be accounted for since 2006, fewer than the 46 that the Nassau police department reported over that time. If the department's statistics are accurate, there are approximately 20 deadly force cases where there is no public record — including a police department press release — that it happened.
The Nassau police department acknowledged it was not tracking the outcome of its deadly force investigations when Newsday filed a public records request seeking the information, and the department initially said it would be too time-intensive to determine how often officers had shot someone. Lack ultimately said he had to go through paper reports by hand to discover that the department's deadly force investigators had not ruled a shooting unjustified since 2006.
Still, the department has been unable to provide Newsday with accurate deadly force statistics, at one point stating they could only determine how many bullets officers had fired each year and not the number of incidents. When a reporter pointed out that the department's bullet count was incorrect, Lack provided overall incident numbers that also proved to be wrong.
Nassau Police Commissioner Thomas Dale declined requests to be interviewed. The current and former police officers named in this story did not return a message left with the department seeking comment.
Lack said Nassau is "actually a very restrained department," but declined to discuss specific cases in detail or explain the department's flawed statistics.
Eugene O'Donnell, a professor at John Jay College of Criminal Justice in Manhattan, called the department's inability to provide basic statistics "amazing."
"The use of deadly force is a signature issue for police," O'Donnell said. "You have to be doing just the very best gathering of information and analysis of information."
Geoffrey P. Alpert, a University of South Carolina criminology and criminal-justice professor and one of the nation's leading experts on police use of deadly force, reviewed two of Nassau's post-shooting investigations at Newsday's request.
Alpert said the reports are "full of boilerplate language" and lack key details.
"Officers fearing for their lives, cars driving directly toward officers — where is the mention that the officer couldn't step out of the way or take other action?" Alpert said. "Why was the officer in fear of his life? These are not very detailed reports at all.
"What you have here is a really thick blue curtain," Alpert said. "You've got a situation where cops pretty much have immunity in violating laws if this is the sort of investigation they're doing."
The shooting team
Nassau's officers are taught in the police academy that with few exceptions — such as stopping a murder, rape or kidnapping in progress — there is only one justifiable reason for using deadly force: The officer fears for his or her life.
"Police officers know that their use of force will necessarily be subject to scrutiny both from within and without the police department. Criminal and civil prosecution may be the result if the officer's actions are deemed inappropriate."
–Nassau County Police Department academy lesson plan
To ensure that was the case, former Nassau Commissioner Samuel Rozzi created the department's first "ad hoc shooting team" to review officers' uses of deadly force after an incident in July 1987.
Roughly a dozen Nassau officers had been in what they thought was a gun battle with a pistol-toting suspect who allegedly robbed a gas station. The suspect, Sanders Jiggets, 30, died after an officer shot him through the heart. But Jiggets never had a gun. The officers, who fired 18 shots, had been peppering each other with their own crossfire.
In response to the public outcry, Rozzi announced that his new shooting team would deliver a report to the commissioner within one day of any such incident. The Deadly Force Response Team still exists.
Rozzi's intent was to create a unit that brought credibility to the department's findings on deadly force incidents. Instead, the department has faced accusations that the investigations are designed to hide inconvenient truths.
Since 2002, at least nine lawsuits have been filed against the county after deadly force incidents, with one accusing the police department of conducting a "cursory and illusory" investigation and another calling the probe a "rubber stamp of approval."
Massapequa attorney Gregory LaMarca won a $77,500 settlement from Nassau County in 2004 on behalf of Kory Ephraim, who was shot in the back by officer Dennis Walsh during a 2001 traffic stop. Walsh said he shot Ephraim because he reached for his waistband, as if to draw a weapon. However, Ephraim was unarmed.
LaMarca said the department needs an independent examiner to review shootings.
"It's the fox watching the henhouse," LaMarca said. "If they can attach any semblance of legitimacy to a police shooting, they will find a way to do it."
The Nassau County district attorney's office also reviews officer-involved shootings that cause injury.
That office also has not found any of the police department's shootings to be unjustified since 2006, according to spokesman Shams Tarek, and the office does not record how many cases of police deadly force it has reviewed.
In Suffolk, instead of using a separate shooting team, homicide detectives investigate all firearm discharges by officers that cause injury or death. Suffolk's detectives are not required to submit findings within a day, unlike Nassau's shooting response team. Also, Suffolk's department protocols require that detectives meet "minimum investigative procedural standards," including interviewing all on-the-scene witnesses, photographing and diagramming the scene, and studying all hospital, autopsy and lab reports.
The Nassau shooting team's protocols do not include such minimum standards.
Engine revs, bullets fly
As with many law enforcement agencies, Nassau officers are barred from shooting at people in moving vehicles unless the officer is "in imminent danger of death or serious physical injury."
The cases reviewed by Newsday cast doubt on whether officers are consistently following that directive and whether the command staff is enforcing it.
In September 2009, Antoine Taylor, 31, who was wanted for a parole violation and for questioning in a homicide, was wounded in Hempstead when a Nassau officer fired three shots at his car. One shot hit Taylor in the stomach.
Antoine Taylor was wounded in Hempstead when a Nassau officer fired three shots at his car in September 2009. (Handout)
Nassau's shooting team determined that Police Officer Keith Rogich — a member of the Bureau of Special Operations, the department's elite tactical unit — was justified in pulling the trigger.
The confidential shooting report, obtained by Newsday, stated that Rogich had stepped out of his unmarked vehicle when Taylor "revved the engine, accelerating his vehicle directly towards PO Rogich."
"The officer, fearing for his life, discharged three rounds while leaping to his left out of the way of the oncoming vehicle," according to the report.
Taylor was charged with attempted murder of a police officer. But after he filed a civil suit against the department, the conclusions in the shooting investigation unraveled in court.
Although the report said Rogich opened fire while standing in the street with Taylor's car bearing down on him, two witnesses testified that they watched Rogich fire the first shot from inside his vehicle.
Taylor's attorney, John Nonnenmacher, backed those accounts by noting that one of Rogich's shell casings was found inside the officer's Jeep. Nonnenmacher suggested that Rogich fired from inside his car, exited his vehicle and kept firing at Taylor as the suspect drove by. There was a bullet hole on the passenger side of Taylor's Mitsubishi, Nonnenmacher noted, undercutting the official version that had Rogich diving away to avoid being struck by Taylor's car.
A federal jury decided in June that Rogich used excessive force when he shot Taylor, who pleaded guilty to felony reckless endangerment and is serving a 15-year prison sentence for manslaughter in the unrelated homicide case. The amount of money Taylor will receive in damages has not been decided.
Nassau police department spokesman Lack said there are different standards of proof at work in the Taylor situation.
"An officer can be legally justified in using deadly physical force under N.Y.S. Penal Law," Lack said. "It is also possible that at a subsequent civil proceeding, the same officer could be found liable for a variety of reasons including differences in the criminal and civil standards of proof."
But in a court filing after the verdict, Nassau County lawyers acknowledged that the Taylor shooting "fell within the hazy border between excessive force and acceptable force."
Nevertheless, the shooting was not investigated by internal affairs, according to Lack.
Nonnenmacher, in an interview, called Rogich's account of the shooting "a cover-up."
"I believe that [Rogich] created this whole story as an act of self-preservation," Nonnenmacher said. "Now he's got to explain why he did what he did. The reasons he gave for shooting three times at Antoine Taylor are not supported by the documentary evidence."
'Fit for duty'
Less than two years after justifying Rogich's decision to shoot Taylor, Nassau investigators used nearly identical language to justify a shooting by off-duty officer Anthony DiLeonardo, who opened fire on unarmed cabdriver Thomas Moroughan in Huntington Station in Suffolk County.
Depositions filed in civil court, and confidential police documents first revealed by Newsday in May, provide a look into the shortcomings of a Nassau police shooting investigation.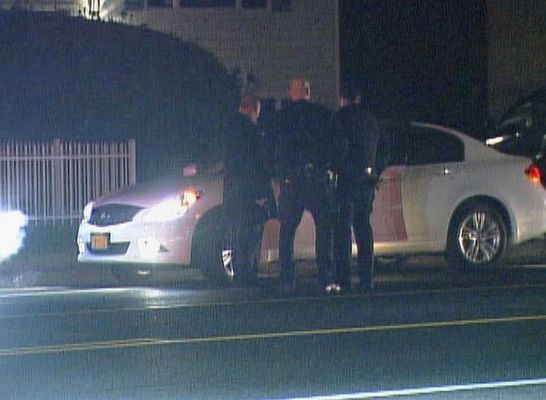 Police investigate scene in Huntington Station where off-duty officer Anthony DiLeonardo shot an unarmed cabdriver, Thomas Moroughan, in February 2011. (Stringer News Service, Feb. 27, 2011)
Moroughan, who was driving a Prius taxi in February 2011 with his girlfriend in the passenger seat, "revved the engine, put the vehicle in drive, and began to drive his vehicle directly at officer DiLeonardo," according to the Deadly Force Response Team report. "Officer DiLeonardo, fearing for his life, fired at least three rounds from his off-duty .38-caliber revolver at Moroughan, striking him in the chest."
For more than three months, that stood as the department's official narrative. But once Suffolk County prosecutors dropped assault and reckless endangerment charges against Moroughan 99 days after the shooting, Nassau's Internal Affairs Unit opened an investigation.
Investigators from both Nassau and Suffolk counties ultimately discredited the Deadly Force Response Team's findings in key ways: DiLeonardo — who fired five rounds, not three — unholstered his weapon as he approached the cab, escalating the situation; he was never in danger of being run down by Moroughan's cab; and the hybrid engine in Moroughan's Prius cannot rev.
Using some of the material compiled by Suffolk County's investigators, Nassau's Internal Affairs Unit found the shooting unjustified, a conclusion that the department's official deadly force investigators have not reached since at least 2006. DiLeonardo has not been criminally charged and remains a police officer.
Those responsible for the Deadly Force Response Team investigation would later testify that their work was limited by design and that they took no notes.
Insp. Edmund Horace, a member of the Deadly Force Response Team who was deposed under oath after Moroughan sued Nassau County, testified that Nassau Chief of Support Lorraine A. Hannon told him by phone that "this is not our investigation. It's Suffolk's investigation. You are not to get involved with the investigation."
Deputy Chief John P. Hunter, then a 34-year Nassau police veteran, coordinated the Deadly Force Response Team investigation into the Moroughan shooting. (About two years later, Hunter pleaded guilty to unrelated charges stemming from the cover-up of a theft by the son of a police benefactor. Hunter was sentenced to probation and retired with a $146,000 annual pension.)
Hunter later told investigators that one of his roles was to determine whether the officers were "fit for duty." But his report did not note that DiLeonardo had spent the hours before the shooting drinking, or that a doctor at Huntington Hospital noted DiLeonardo showed signs of intoxication. Also, members of the Deadly Force Response Team did not attempt to interview an eyewitness who later described DiLeonardo as the aggressor.
However, less than 12 hours after the shooting, the team drafted a report — which Hunter would sign and submit to the police commissioner — clearing DiLeonardo's use of force against Moroughan.
Nassau's Deadly Force Response Team members would tell internal investigators that they allowed Suffolk County's homicide detectives to handle the investigation and that they didn't share any pertinent details about what happened.
But critical information later debunked by Nassau's internal affairs investigators — that Moroughan revved his engine and drove at DiLeonardo — made it into both Nassau's Deadly Force Response Team report and a written confession that Suffolk homicide detectives wrote and had Moroughan sign while on morphine with two bullets still inside him.
Anthony Grandinette, Moroughan's attorney, said Nassau's shooting investigation was part of a cover-up that spanned two police departments. Moroughan and his attorney say the confession was false.
"My opinion is that the DFRT intentionally made material misrepresentations and omissions of fact in a deliberate effort designed to shield the officers from administrative and criminal sanctions," Grandinette said.
Three of the four Nassau shooting team investigators distanced themselves from the report bearing their names when asked in their depositions whether they agreed with the report's findings.
"I can't answer that because I never read it," Horace said.
"I didn't submit that report," Capt. Daniel P. Flanagan said.
"I can't testify to what that report is. I didn't prepare it," Det. Sgt. John DeMartinis said.
'The Hammer'
Not all of Nassau's deadly force incidents involve guns. In 2004, an officer deliberately ran over a suspect with his car, and the man lost his right leg.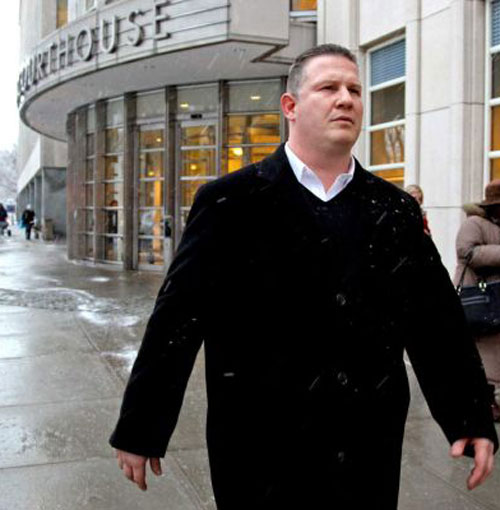 Thomas Hartmann lost his right leg after a Nassau police officer rammed him with his car in 2004. He was awarded a $15 million settlement. (Craig Ruttle, Feb. 16, 2010)
A confidential Nassau deadly force report obtained by Newsday shows officer Karl Snelders was in his squad car pursuing Thomas Hartmann, who was accused of threatening his wife and police officers. Hartmann, who was outside his own car, crouched down with his hand in his waistband while yelling threats, the report states.
"Officer Snelders, fearing for his life and the safety of his partner, struck the subject with [his police vehicle] and drove the subject onto the curb. It was rather apparent that the subject was suicidal and trying to force the police officers to shoot him," read the report, which was prepared by Robert M. Turk. Then the commanding officer of the Bureau of Special Operations, Turk would later coordinate the Deadly Force Response Team that investigated the Antoine Taylor shooting.
Turk concluded: "In my opinion, the officers would have been equally justified in shooting the subject based upon his movements and threats, however the officers exhibited a tremendous amount of restraint in not shooting the subject."
Hartmann, who was unarmed when Snelders ran him over, received time served after pleading guilty to misdemeanor resisting arrest, aggravated harassment and criminal contempt.
Hartmann filed a lawsuit in April 2004. In a deposition filed in federal court, a witness said she did not see Hartmann make any gestures or threats before Snelders hit him with his car.
Hartmann's attorney, Daniel Hansen, introduced photos of Hartmann's blood spatter on a lawn. Because it was not on the road or the curb, Hansen suggested, it cast doubt on the officer's claim that he was forced to "terminate the defendant's approach by hitting him with the car."
Though Nassau's investigators did not note it in their deadly force report, Snelders had a history of using force, including with his vehicle.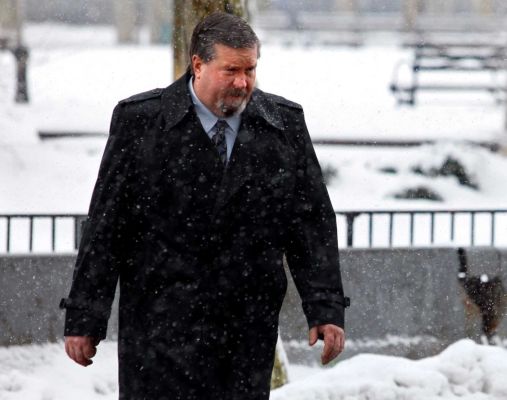 Nassau Det. Karl Snelders,  who was driving the car that struck suspect Thomas Hartmann, was found by a jury to have used excessive force. (Craig Ruttle, Feb. 16, 2010)
Snelders admitted in a deposition to "seven or eight" departmental excessive-force complaints. Internal affairs investigators recommended he be retrained in "handcuff techniques and sensitivity" after he was accused of grabbing a handcuffed suspect by the testicles and shoving him, according to court documents filed in Hartmann's suit.
Snelders had also earned the nickname "The Hammer," the officer explained, "when I punched [a suspect] in the face and broke his jaw in two places."
During the trial, Hansen asked Snelders whether he had previously used his vehicle to strike a person.
"I've used it before, yes," Snelders answered.
A federal jury decided Snelders had used excessive force and awarded Hartmann $19.6 million in 2010. He ultimately collected a settlement of $15 million.
"The bottom line in these deadly force investigations," Hansen said in an interview with Newsday, "is that the only information considered comes from other police department members."
Point-blank mistake
In some of the cases reviewed by Newsday, the criminal-justice system tempered claims made by Nassau's officers after deadly force incidents.
Roberto Loo-Kung could have received life in prison after he was charged in 2009 with attempted murder of a police officer. Officers said they opened fire on Loo-Kung because he "drove directly" at them, but he ultimately pleaded guilty to reckless endangerment and was sentenced to only probation.
Steven D. Frick was also charged with attempted murder in 2006 after a Nassau officer said Frick "drove directly" at him. Frick was not convicted of any crime, according to a search of state records.
Iyanna Davis was never arrested after a Nassau officer shot her in a drug raid that targeted a suspected dealer who lived on the ground floor of a duplex where she lived upstairs.
Police Officer Michael Capobianco would later say in a deposition that Davis was not the intended target of the search warrant and that it was "sketchy" whether the building contained one or two homes. But on a night in 2010, he and other Bureau of Special Operations officers wearing SWAT gear burst into the duplex carrying assault rifles.
Capobianco pointed his R4 assault rifle into a closet where Davis crouched, hiding from what she feared were armed robbers.
"I told them I was afraid, and do not shoot me, and one officer screamed at me to put my hands up above my head," Davis, who was 22 at the time of the shooting, said in a deposition. "That's when I heard the shot and I felt myself sit down because the force actually knocked me back on my backside."
The point-blank rifle bullet went through Davis' breast, abdomen and both thighs, according to emergency room records.
She survived and filed suit in January 2011 seeking $11 million.
Davis, who has no known criminal convictions, said in her deposition she was so scared after she was shot that she gave the police officers a false name.
Asked what she was afraid of, Davis said: "That they were going to kill me or that they was going to take me somewhere and shoot me again. It's very rare that somebody is shot by the police and they actually live to talk about it or speak about it."
Capobianco, in his own deposition, acknowledged he shot Davis because he'd fallen backward and accidentally pulled the trigger.
"I took my helmet off and I took my glasses off and I put my glasses in my helmet and I walked out into the hallway . . . and I said, 'I had an AD. I had an AD,' " Capobianco said in an emotional deposition, using the police term for accidental discharge.
"I was just worried that she was going to check out," Capobianco continued. "I was praying about as hard as I prayed in a very long time that she would be OK."
Police documents concerning the shooting are sealed under a confidentiality agreement, but Davis' lawsuit alleges the Nassau police department "employed the use of the 'Shooting Team' in order to justify the shooting of Davis."
The police account was full of "inaccuracies," Davis' attorney, Charles Horn, said in an interview.
"They had her jumping out of the closet," Horn said. "Even if you were to believe the officer's story at this point, it's a reckless discharge."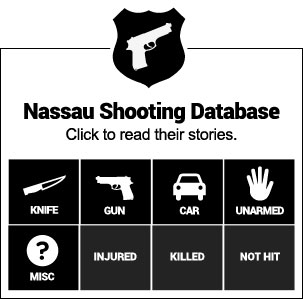 The department declined to provide Newsday with the shooting team's report, but spokesman Lack said in an interview that the Davis shooting was ruled accidental.
However, the shooting statistics the department provided Newsday showed seven police-involved shootings in 2010, the year Davis was shot — none labeled accidental.
"That must have been an error, because there was an accidental shooting in 2010," Lack said.