Eric Sickles was one of Southampton's best cops.
Sickles joined the department in 2000 and was soon assigned to the prestigious Street Crime Unit, where he handled sensitive undercover work, running nearly all of the department's drug informants and securing search warrants.
The Southampton Kiwanis Club named Sickles Officer of the Year, for all of the East End of Long Island, in January 2012.
But his wife, Erica, knew by late 2011 that her husband had a problem.
Sometime in 2009, Sickles injured his back practicing mixed martial arts. He dealt with the pain with a prescription for hydrocodone.
By the fall of 2011, Sickles would later tell the internal affairs investigators, he was consuming a cocktail of pills: oxycodone, Xanax, antidepressants and, briefly, Adderall, which he called "a little hit of speed."
Erica, a former Southampton police dispatcher, saw how the drugs affected her husband at home. She did not respond to Newsday's request for an interview, but she gave the department a written, sworn statement in June 2012 that provided details about her efforts to help her husband.
Erica wrote that she sometimes found Eric passed out on the floor of their Manorville home. She once watched him fall asleep on his feet as he was pouring a drink.
She recorded footage of her husband in stupors for him to see but said he just deleted the videos. She begged her husband's doctor to limit his painkiller supply but said she was ignored.
Then a disturbing incident pushed her to get help from Kiernan, her husband's boss in the Street Crime Unit. Eric usually left his firearm at police headquarters so their young children wouldn't find it. But one night he brought it home and passed out with the gun on the kitchen table.
"I didn't want the kids to get hurt and I couldn't get him up," Erica wrote. "I was really worried and didn't know what to do."
Eric told her that Kiernan had already approached him, saying he "didn't look right at work."
"It wouldn't be me reaching out and getting Eric in trouble because Jimmy already knew something was wrong," Erica wrote.
She called Kiernan the night of Oct. 25, 2011, and said she told him that Eric was taking anti-anxiety medication and pain pills.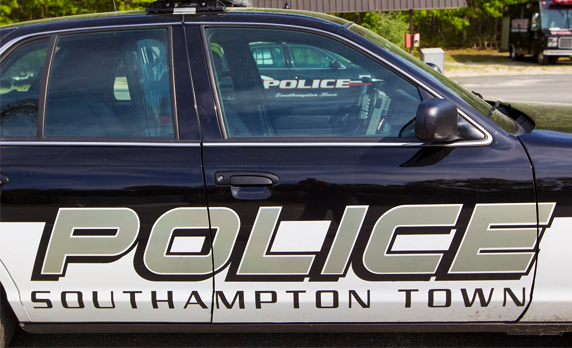 Photo credit: Randee Daddona | A Southampton Town Police car parked outside police headquarters in Hampton Bays.
Erica wrote in her sworn statement that she told Kiernan about the incident with the gun at the kitchen table and that she no longer allowed Eric to drive with their kids in the car.
Kiernan was receptive to her concerns, she wrote.
"Jimmy told me that he noticed it too and admitted Eric was not himself," Erica wrote in the statement. "He said he saw the change in Eric and that he was tired all the time."
"I felt better," she continued, "and Jimmy told me he would talk to Eric."

When Kiernan described his conversation with Erica Sickles for investigators five months later, he said Erica had told him only that she had seen her husband fall asleep with his gun in his hand and that she wanted him to have a talk with Eric.
"That's why I was talking to him."
– Lt. James Kiernan's internal affairs interview
Kiernan told investigators he confronted Sickles on Oct. 26, 2011, the day after speaking with Erica. Kiernan said Sickles admitted to being on an array of pills and that he was being treated for a sleeping disorder.
Kiernan told Sickles to lock up his gun at headquarters and not to drive his department vehicle until a doctor had cleared him to work.
Records from the internal affairs investigation show that Kiernan's instructions went undocumented and came with no official safeguards. Instead of invoicing the weapon, which would have been standard in a formal suspension, it was put in a Street Crime Unit locker Sickles could access. He also had access to a smaller .38-caliber handgun the unit used in undercover drug buys.
Within the week, records show Sickles was back doing police work, making a drug arrest on Halloween. Sickles had produced a note, written on a prescription pad by a physician's assistant who had been prescribing him medication, that said Sickles was under the man's care and could "return to full duty."
When investigators asked Kiernan who else he alerted about Erica Sickles' call, he said he told Chief Wilson in the first few days of November. Kiernan said he confirmed for Wilson that pain pills were involved and that Wilson responded by stating, "That could happen to anybody."
Wilson said in an interview with Newsday that the conversation Kiernan described never happened. He said it would be another month before he finally learned that Sickles was carrying a gun and making arrests in Southampton while addicted to narcotics.